There are a number of Fisheries along the Owens River in the Eastern Sierra and we are only describing one of them in this article which is Lake Crowley and the mid-Owens River section.
The Lake Crowley to Five Bridges offers the ability to travel the Fishery in a day.  The opportunities within that geography could take a month it is so rich in places to fish.  Some of the stretches of water have as many as 4000 fish per mile.
About Lake Crowley and the Owens River
With Lake Crowley on the North end, the Owens River to the Owens River Gorge which runs down to Pleasant Valley Reservoir and on to Five Bridge is about a thirty-mile stretch up HWY US 395 out of Bishop, California.
Bishop lies approximately on a horizontal line from Fresno.
Crowley Lake has an L/L of N37.60080 W118.74432, 37.60080, -118.74432, Pleasant Valley Reservoir at N37.4319 W-118.52095, 37.423350, -118.538082 and Five Bridge lies South at N37.41300 W118.40479, 37.411583, -118.395481. 
Size
The Mid Owens-Lake Cowley fishery is about 42 miles in length overall with 30 of them below the Crowley dam so there is a good variety of landscape and structure.
Lake Crowley itself is 12 miles long and at its widest point five miles across.  This comes to about 650 surface acres.
The Owens River Gorge is about 19 miles in length.
Pleasant Valley Reservoir is three miles in length with a 115-acre surface area. The Lower Owens from Pleasant Valley Dam to Five Bridge is about 6 miles.
Species At This Location
Bass LargeMouth
Bluegill
Trout Brook
Trout Brown
Trout Rainbow
Lake Crowley and Owens River Fishing
What an incredible part of the U.S. to plan to go fishing in.  Interesting country, with lots of water, and lots of activities worth considering in addition to fishing including camping, hiking, rock climbing, sightseeing and even skiing if it is winter.
The general area runs from the high Sierras to the high desert.  Some of it does look prettier than other parts but it is all interesting.
The State of California and the Department of Fish and Game(DFG) along with the USF&WS, BLM, BOR & USFS for example, have all put a lot of development time into the area.  The result is good fishing, lots of campsites, and good facilities.
Additionally, there are lots of commercial interests as well which means lodging, fishing gear, food, guide services, and other support businesses.  As a result, a lot of people fish in this area every year but there is still room to come and enjoy it.
Lake Crowley Fishing
Starting at the upper end of the Fishery is Lake Crowley.  It has around 45 miles of shoreline and more trout per square inch than a trout farm.  And what's more, they are big.  Browns can run to 20 pounds and Rainbows to 6 pounds.  The Alpers strain of rainbows is in the water as well as DFG stockers.  The Alpers comes from the Alpers family hatchery and they are quite large rainbows.
This is a big Lake with room to move around and to fish from the shore or the boat.  The lake is the confluence of McGee Creek, Hilton Creek, and the Owens River which were dammed to form Crowley.
The channel structure and water movement create good fishing opportunities.  Opening day at the Lake can attract crowds as large as 6000 people but after that life gets more normal.
Here it is about 50/50 for fly rigs and gear rigs.  Both work well with the gear rigs having a slight advantage in fishing the depths.  Shore fishing works but the advantage is to get out on the water which you can do with a float tube or a boat.  Pay attention to the winds which can kick up pretty well.
On Lake Crowley, the fly fisher will make good use of nymphs or bead heads most of the time and you will hit some periods during the day when an Elk Hair Caddis or Pheasant Tail work.
Fly rodders will do well with three weights to five weights at about 9 feet in length give or take.  Hatches occur throughout the year so the hatch is always on to some degree.  Caddis and Mayfly imitations work very well for dry fly fishing.
Spinning rigs and bait casters will have a good time, especially on the lakes.  Small spinners and spoons work well up in the water column while baits do best if fished close to the bottoms.
The bait casters can go with Power Bait style offerings or possibly inflated worms and drop them to the bottom.  Light spinning rigs work well with Mepps or Panther-Martin small spinners.
Owens River Fishing
Moving down below from Crowley into the Owens River it is possible to see Browns to 25 inches in length and rainbows running up to as much as 15 inches.  The river runs into the Owens River Gorge and this phase is about 19 miles long ending at the Pleasant Valley Reservoir.
The gorge is very popular with rock climbers because of its structure and walls often running up some 700 feet.  It can be a challenge getting to the fishing spots but the reward is that you are not often crowded and the fishing is good.
This is not an area of huge fish but rather wild browns and offers real challenges to the fly fisher primarily.  Typical flows through this area are about 30 to 40 CFS.  Run-off periods can cause temporary increased flows.  Do be cautious in this area as there are rattlesnakes.
There are a number of service roads that are actually paved going down to the water in the Gorge but you have to walk them as vehicles are not allowed.  In several places, it can also be a boulder climbing debris kicking process.  However, the reward is some good size Browns and Rainbows.
Regular gear tackle is permissible on these waters in the Gorge but fly rods are probably easier to use given the water depths, velocity, and terrain.  If you are a fly rodder, Drys and wets depending on the time of day will work.  Hatches occur all year long.  For the Gear Tackle folks, spinners or small spoons are good choices.  Plan on cast and crank to work the water.
Pleasant Valley Reservoir Fishing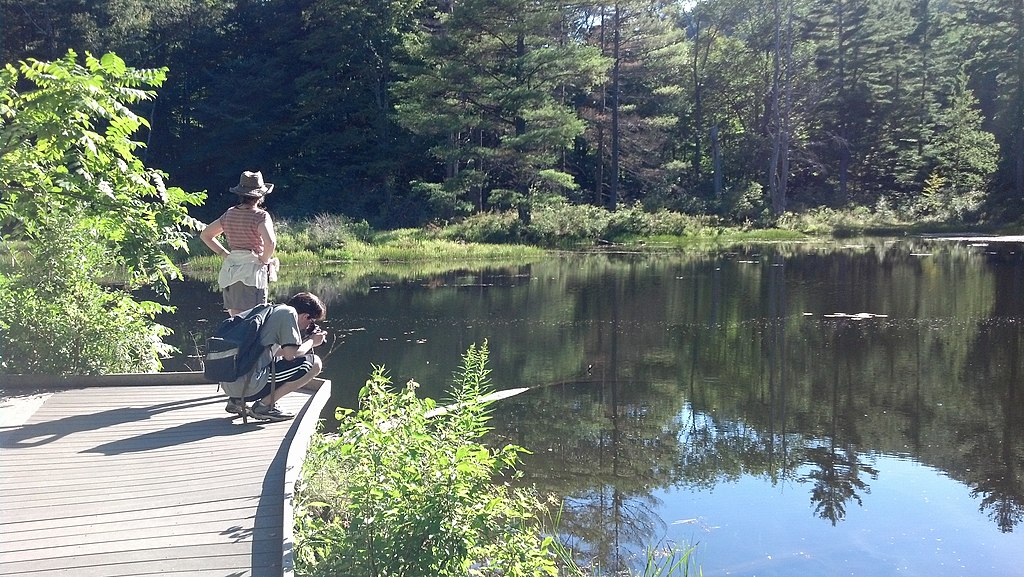 The Pleasant Valley Reservoir is about three miles in length with about 115 acres of surface.  This is a float tube only water, no boats.  Fishing is good from the shore and especially off the dam.  You can fly fish or use a spinning rig or bait caster setup.
Here there are Browns and Rainbows.  While once upon a time you were restricted to shore fishing, today you can use a float tube.  This lake is a good alternative to Crowley and because it is just a bit lower in elevation, it is open year-round.
The area just below the Pleasant Valley Dam to Five Bridge is a wild fish Catch & Release area.  Starting at the campground footbridge, it extends 4.4 miles down to a DFG marker at Chalk Bluff Road not too far from Five Bridge.
This is predominantly fly-fishing water.  Flows do fluctuate often, so be cautious. Wading at 400 CFS is not a good idea and bank fishing makes a lot more sense at or above that flow level.  What is typical is summer flow rates from 100 to 300CFS while summer water needs to run the flows up into the 400 to 600CFS rate.
In this stretch of water and going on down, Smallmouth Bass & Bluegill start to populate the water along with the Trout.
Weather
Summer is the hot season and it is dry.  Not the most pleasant of places at that time of year.  Winter can run to the extreme in the other direction with windy cold days.  On the other hand, Spring and Fall are just too perfect for words.  But hey, when was there ever really a bad time to be fishing.
Fishing Season
On Crowley and above, trout season is from April 30 through October 31.  Closed November through March.  From there through the Gorge, and down, fishing is open all year around with a few exceptions.
Also, there are restrictions on limits and types of lures used depending on the time of year and the location along the Fishery.  For example, typically September through October will be lower limits and artificials only.
The Wild Trout water below Pleasant Valley is usually open From January through September.
Always check local regulations as timing and special requirements can change.  Your local tackle stores or guides can give you current information.