The Green River is born in the Wind River Mountains and flows some 300+ miles through Wyoming.  It sees great, diverse geography on its way including lakes and impoundments.  There are tremendous fishing opportunities for a variety of trout along the River.  One of the best, and quite accessible, is the Upper Green River fishery outside of Pinedale.
Upper Green River Pinedale Wyoming
The Upper Green River Warren Bridge public-access fishery comprises about 12 miles of Bureau of Land Management (BLM) land.  The Warren Bridge on Hwy 191 provides access to the Upper Green River Fishery near Pinedale in Sublette County, WY.
The Warren Bridge is 21 miles north and west of Pinedale on Hwy 191. It takes about 25 minutes to get from Pinedale to the access area. As you cross the Green River over Warren Bridge, immediately to the right you will see an old metal trestle bridge. Take an immediate right as you're going north on Hwy 191 from Pinedale, onto BLM Rd. 5201.
The GPS coordinates of Warren Bridge are N42.992652 W-110.119819, while the coordinates to the BLM Rd. 5201 turn off are 43.020969-110.121563, a distance of only 0.2 miles.  You can also reach the Warren Bridge traveling south out of Jackson Hole, WY in about an hour.  You will of course reach BLM Rd 5201 just before reaching the Bridge.
The Warren Bridge access point to the Upper Green River comprises a 12-mile stretch of river.  The river is typically 40 to 60 feet across and can be waded.  Caution is advised and swift currents can exist along with deep holes.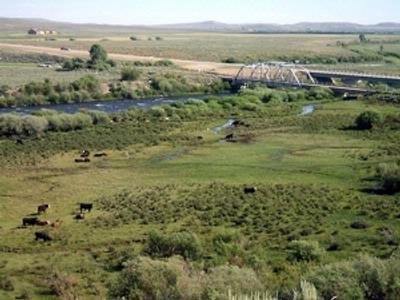 About Pinedale Wyoming
Pinedale is the base camp for the Wyoming Cutt-Slam, designed by the Wyoming Game and Fish Department to develop an appreciation of and support for the management of this magnificent trout species.
Any angler can participate in this program by catching each one of these four sub-species in its native range, documenting it with a photograph, providing information on the date and location of the catch, and then sending this data to the Wyoming Game and Fish Department.
The department processes this information and provides the angler with a beautiful certificate commemorating this unique accomplishment.
About The Upper Green River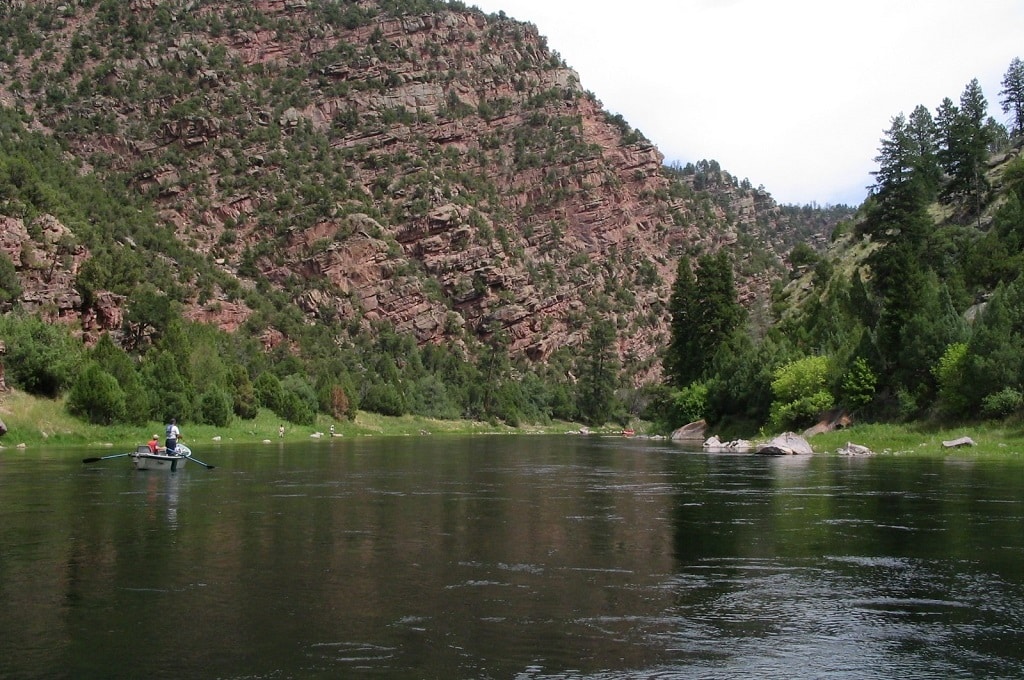 Upper Green River WyomingThere is no doubt that Sublette County and the Upper Green River offer a great habitat for trout, but equally important, it is a haven for anglers of all skill levels. The river originates at the Green River Lakes in the Bridger Wilderness and eventually runs into the Flaming Gorge Recreation Area.
The river between the Green River Lakes and the Flaming Gorge  Dam is designated as the Upper Green River.
As a free-flowing stream, the Green is subject to spring runoff conditions each year. And like all free-stone streams, the high water will vary from year to year, but usually by the second week in July the flows are ideal for fishing.
Generally, the type of water one will encounter are good pockets, riffles, nice mid-stream runs, diversions that offer deep hole opportunities, and, finally, some wider, flatter, quieter waters.
Restrictions on this stretch of the stream are posted on arrival into the access area. While most fishing in this fishery tends to be catch and release, typically there is a keep limit available.  Check current regulations for the latest information.
Beware there are some unmarked, unimproved turnouts that do not go all the way down to the stream, so be prepared for a long walk. More importantly, some turnouts are unimproved to the point where it is difficult to get down to the river in your vehicle and come back out.
Proceed with a great deal of caution if you decide to venture forth. And finally, some of the turnoffs down to the stream, even improved ones, are very steep; taking large vehicles or RVs is not a good idea.
Upper Green River Fishing
The Upper Green's 12-mile stretch has about 12 public areas that can be accessed by improved gravel roads traversed with a normal passenger vehicle, most of which go right down to the stream.
At several of these sites, there are comfort stations such as bathrooms and picnic tables, and at least 3 sites have drift boat ramp facilities.
There are 12 commonly used turnouts to the stream. All GPS coordinates are for the site turnoff intersections, not the actual river access point.
1. This site has a boat ramp, bathroom, picnic tables, and campsite. It is located .35 mile from the BLM Rd. 5201 turnoffs. GPS coordinates are 43.024567-110.117131.
2. This site has a boat ramp, bathroom, picnic tables, and campsite. This is one of the nicest campsites in terms of aesthetics and is located .63 mile from Site #1. Its GPS coordinates are 43.028825-110.105910.
3. This site does not contain markings at the turnoff, though you can surmise this is an improved road when you come upon it, and it does go down to the stream. This site offers a bathroom. Its location is .56 miles from Site #2 and its GPS coordinates are 43.036290-110.105555.
4. Much like site #3, this site has bathrooms, but no markings, although you can see it is an improved road when you come upon it. .191 miles from Site #3, the  GPS coordinates are 43.057818-110.090548.
5. This site is right next to the road, and it has a bathroom. It has a boat ramp downstream from the campsite and is located about 1.40 miles from Site #4, with GPS coordinates 43.075196-110.078955.
6. Right next to site #5 turn off, there is a road that parallels the stream, from the campsite upstream to where it joins the main road. At this site, the water is wider and flatter, but stream improvements have created some nice holes.
If you continue following this site's road, it goes all the way up and comes back out onto the main road, paralleling the stream for about 1.5 – 2 miles. Part of this road is unimproved, so you need to go slow and it may be slick when it gets wet.
Site #6 is about .10 miles from site #5. GPS coordinates are 43.07581-110.077112.
7. This site offers a wide-open campground with bathroom and picnic tables. The unimproved road moves upstream and joins the main road, and there are some very steep climbs that may be slippery in wet conditions. Travel .60 miles from site #6. GPS coordinates are 43.083266-110.072133.
8. This site has some nice pocket water and runs on it. It has a bathroom and a very dim unimproved road that runs from #8 to #9 along the stream.
This road requires an off-road vehicle to negotiate very rocky terrain, and it needs to be traversed very carefully. Drive about .43 mile from site #7 to get here.  GPS coordinates are 43.088781-110.067945.
9. This site, which has a bathroom and picnic tables, also has a big fishing hole at the campsite, and pocket water is located above the campsite. The turn into #9 and #10 is the same turnoff. There's a Y – one road goes to #9, and the other goes upstream to #10.
Travel .39 mile from site #8; recall this shares a turnoff with site #10. GPS coordinates are 43.093870-110.064966.
10. This site has some nice deep runs and water and offers a bathroom and picnic tables. It also shares a turnoff with site #9 at the Y. .39 mile from site #8, the GPS coordinates are 43.093870-110.064966.
11. Between #10 and #11 the stream drops rapidly. The water runs faster and there are not quite as many fishing holes, though there is some good pocket water in the stream between these 2 sites.
Site #11 and #12 have a combined turnoff where there is a Y in the road. Downstream there is a bathroom and a very nice hole below a big diversion. Travel approximately 1.83 miles from the turnoff to sites #9 and #10 to find site #11, which shares a turnoff with site #12.
To go to site #11, take a hard right at the Y. GPS coordinates are 43.117158-110.055792.
12. This site is upstream and offers a drift boat ramp, bathroom, and picnic table. Water is very flat, slow, and fairly shallow. It is located 1.83 miles from sites #9 and #10 and shares a turnoff with site #11.
To go to site #12, go straight at the Y; note that the road curves. GPS coordinates are 43.117158-110.055792.
Species At This Location
Trout Brook
Trout Brown
Trout CutThroat
Trout Rainbow
Whitefish
Sublette County is located in the geographic center of Wyoming's cutthroat country. Western Wyoming is home to four subspecies of the cutthroat trout, which has some important lineage in this area.
Over a period of thousands of years, this special large spotted trout trekked from the ocean environment to its current residence in the Rocky Mountains. Their journey required them to negotiate tremendous hydrological obstacles en route to waterways in the Rocky Mountains.
In some cases, geologic shifts in the earth's surface isolated these trout and some became distinctive sub-specie.
Weather in Wyoming
Summer is the peak fishing season in Wyoming, which starts around mid-to-late June through mid-September. Water temperatures are pretty chilly even in the summer about 60 to 65 degrees however, wet wading would be appropriate.
Always take layers of clothing on a fishing trip, as Wyoming often has significant temperature swings during this 3-month period with some moisture, which could come in the form of snow.
The fall season usually begins in mid-September and ends in mid-November, with the onset of winter in November, which lasts through March.
Spring in Wyoming normally starts in mid-April and will extend through mid-May. Just as in the summer months, pack layers of clothing throughout the spring, summer, and fall seasons, as the area is always subject to having a cold front run through it.
The elevation is about 7,200 to 7,300 feet, so temperatures can drop quickly and are magnified. Wyoming can get snow any month of the year, as it's located high in the Rockies.
Fishing Methods
The stream is a multiple-use stream in which you can fish with conventional rods such as a spinning rod with artificial lures, or an even more popular method is fly fishing. The Upper Green River provides all forms of challenges for anglers: wide-open back cast areas or more challenging areas in terms of getting the fly on the water.
As for the use of lures or flies on this stretch of water, it depends on the time of year. Early in the season, subsurface flies work well, as do streamer-type flies, woolly buggers, muddler minnows, and nymph patterns such as the stonefly nymph and prince nymph.
As the season progresses and the water warms up, the area has a lot of fly hatches, so surface stonefly patterns and caddisflies work well in the stream system, particularly in the warm afternoons. Mayfly patterns such as the blue wing olive also perform well, as do the Adams patterns.
Another popular style of fly that works very well during the summer season of July, August, and September is a terrestrial pattern or those insects born on land, that want to stay on land, such as the grasshopper.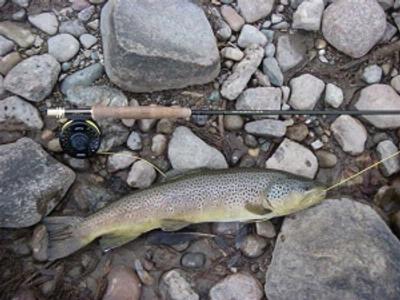 Typical Season
Late May and early June are when the Upper Green River will experience the runoff, however, the stream starts to moderate about the first or second week in July.
Peak fishing season on this stretch of river is usually the first week of July through the end of October but may be subject to change based upon the actual arrival of spring and fall.
The Upper Green is a year-round fishery, with only weather and open water being the limitations, as several sections of the stream will freeze over during the winter months.
The area boasts many fishing opportunities in addition to the Upper Green River fishery, as it is the home to the New Fork River, a great fishery itself, as well as Fremont Lake and a variety of other fishable waters.
It is a great place for the whole family to visit, offering a good variety of restaurants, and modern hotels.  There is hiking, camping, and horseback riding, along with many sightseeing opportunities in the Bridger Wilderness.