Ernest Hemingway called St. Marys Rapids one of the great Rainbow fishing spots in the world.  While it is one of the smaller fisheries, we agree that it is one of the best. It is not an area that is of any great beauty, but it is certainly one full of fish and challenges.
How to Reach St. Marys River Rapids
The Rapids are located on the St. Mary's River between the cities of Sault Ste Marie, Ontario Canada, and Sault Ste Marie, Michigan. The L/L is N46.50778  W-84.36240 and sets below Interstate I-75 where it crosses into Canada. Access is from the Canadian side.
The cities are not without their charms.  While they are not exactly tourist destinations, they boast good accommodations and plenty of restaurants.
Plenty of Fish at St. Marys Rapids
The St. Marys Rapids is about three-quarters of a mile long and about a quarter mile wide.  It is physically a small fishery but exceptional in nature.
It lies within the port facility and power generation area of the docking and transfer points of the St. Marys River at Sault Ste Marie.
It is specifically part of the 21-foot drop from Lake Superior to Lake Huron and next to the ship locks for passage between the Lakes.
Within it lie Browns, Brookies, and Rainbows.  Transversing it are runs of Steelhead, Coho, Atlantic Salmon, and Chinook.  It can be incredibly exciting to fish this water.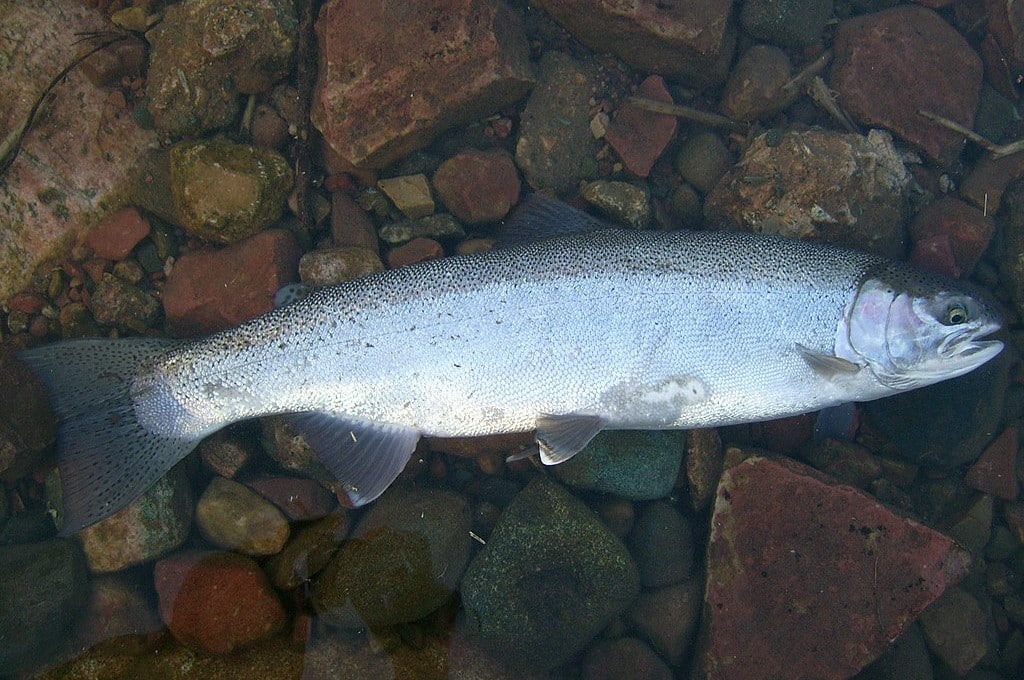 Popular Catches
Salmon Chinook
Salmon Coho
Steelhead
Trout Brook
Trout Brown
Trout Rainbow
About St. Marys Rapids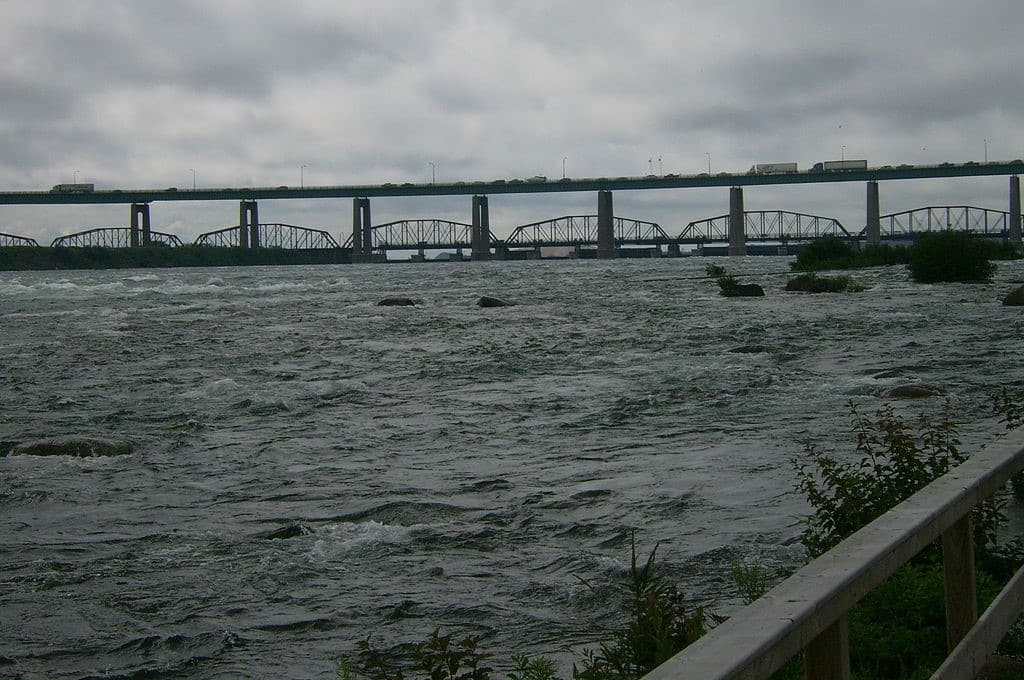 Even though the fish are visible, they are not so easy to catch.  The water is swift and gin clear.  You can see them and they can see you.
This makes it easy to spook the fish off with clumsy wade or poorly placed cast.
Likewise, the rocky bottom and outcroppings are very slick.  Spiked boots or gripping rubber soles are recommended.
Overall, the bottom is slippery to the edge of what un-spiked felts can generally handle.
The Rapids has a concrete dike running most of its length which is about 150 feet out from the Canadian shore.  Within the dike, the water is relatively calm and wadeable.  The area inside the dike is good water with lots of gravel riffles.
Across the dike, the water gets a lot swifter and has three fairly large pools within the area.  Wading out there is for the experienced only as you can go from knee-deep to 15 feet in one step.  Certainly, you can cast to the area from inside the dike if you are not prepared to enter that water.  At any rate, there are plenty of fish inside the dike.
The good news is that the fish tend to be large.  When the Steelhead are running they probably average 8 to 10 pounds.
Working the Browns and Brookies along with the Rainbows is a heart pumper.  You will get into fish, and you will fight to keep them on the line.  They are tough.  They will take off at a run and you will work to keep your footing and keep up with them.
This is mostly treated as a catch and release area though you can keep a small number of the fish you catch.  Check current regulations to see what the keep limit is at the moment.
You're on the Northern border of Michigan across from Canada and between two of the Great Lakes. Spring, Summer, and Fall are great but can still be cold.  Winter is just no fun.
Open all year.  Cold weather in Winter can make for hard going.  Peak fishing time is May through June.
St. Marys Rapids Fishing Experience
You are going to see fly rods and spinning rigs on the water.  Both are at home here.
For the fly caster, plan on somewhere around an eight-weight rod to handle the action.  You'll need it to get the cast out there and to stand up to the fight in fast water.
Be sure you have at least 150 feet of line on the reel.  Tippet material should be about 2X and abrasion resistant.  Fluorocarbon can be a good choice.
Flies of a simple nature are quite workable.  Think about Glo Bugs, Muddlers, and wooly buggers.  Nymphs in size 12 work well also.  The key is to get on the bottom and work a drag-free dead drift.  A dropper rig is a good way to go in this water with both of them being wet and sinking.
For the spin caster, again, about 150 feet of line.  When they take off you'll need it.  Don't set the drag too tightly if you don't want a break-off.
Light rigs can be a lot of fun in this water.  For a regular go at it though, a stiff action rod of 7 to 8 feet with a 12 to 15-pound test and an eight or ten-pound leader should work well.
For lures, spinners and spoons are the weapons of choice.  Also, consider jerkbait minnows as well in a four in length.