The San Juan River before Navajo Dam is designated as Quality Waters. It offers wide flats and deep running fast channels. The San Juan Quality Waters fishery is one of America's premier Trout fishing areas.  Twenty-inch rainbows are common.
San Juan River
A few years back in 2016 time frame, New Mexico did a major renovation in the river to clean up the waterway and put in more features like boulders, depressions, wood drops, and some dredging.  The result has been a great fishery has become even better.
There are probably more articles written on this stretch of the San Juan than any fishing spot in the U.S, and they all make great reading.  The river is beautiful and the high western terrain is spectacular.  This is Cowboy and Indian country with high vistas and red rocks.
This is a fishing trip destination with not a lot else to do.  Nearby towns are not tourist places but working towns. Still, they have their charms and tourist shops plus the unique foods of the Hispanic and Indian cultures.
There are good accommodations at the Village of Navajo Dam just below the Quality Waters and good food to go with it.  But these are fish camps, not luxury hotels.
You can experience sight fishing at its best as well as fishing blind to the depth at Texas Hole.  You can wade and you can ride in a McKenzie-style river boat.
San Juan River Below Navajo Dam
The section of the river below Navajo Dam is designated as Quality Water by the State of New Mexico.
It is 3.7 miles long and starts at the base of the Dam.  In this area, it is pretty much fly fishing.  Artificials are required along with barbless hooks.
The first part just below the Dam is C&R only with the remainder 3.5 miles limited to one fish kept only.  The truth is, it is rare to see someone keep a fish.  Beyond this stretch, fishing opens up to more bait casting and spinning rig fishing.
The Quality Water is primarily Rainbows, an occasional Brown, and once in a while, a Steelhead.  Below the 'Water' the dominance turns to Browns and limited keepers are permitted.
San Juan River Quality Waters Fishery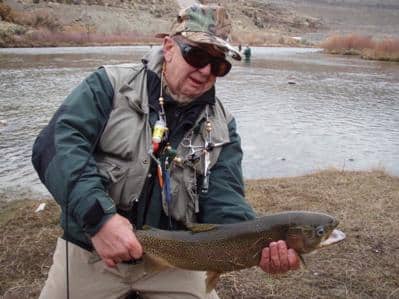 The San Juan Quality Waters fishery lies along New Mexico Highway 511 above U.S. 64 along the top of the state.
You can reach the location easily by a vehicle coming up from Albuquerque or over from Arizona on Hwy U.S 40 before turning up North or on New Mexico Hwy 173 coming down from the North in Colorado.
GPS coordinates for the fishery are N36.80670 W107.61685, 36.813893, and -107.669994.
Overall, this fishery area is about 10 miles in length.  The river width varies widely but is seldom more than 100 yards wide.  It can run swift and deep so caution should be exercised at all times.
San Juan River Navajo Dam Fishing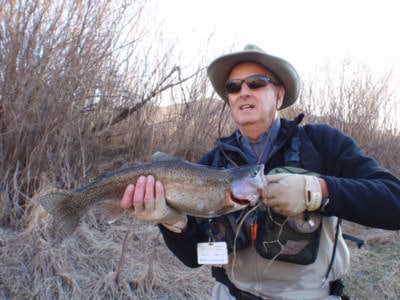 Fish are plentiful which does not mean easy to catch. However, it would be unusual to have not caught at the very least a few really great 'Bows'.
There are several very good guides available and worth the money not so much to tell you where the fish are but to get you to the trophies by fishing smart.
This is one of the few places you will ever go that the fish at times literally will sit at your feet.
Fly fishing is the norm here but below the Quality Waters and downstream, bait casters and fishing with spinning rigs, other artificials, and even live worms work well.
On the Quality Waters, artificial only.  The popular San Juan worm is a must-have fly.  Small black emergers work very well, usually in a size 26.  Bead head nymphs are good.
Dry flies will work such as a Griffen's Gnat or Parachute Adams but more often than not, you need to get under the surface.  A six-weight rod and reel setup is a good standard for this area.  Size 24 and 26 hooks are the norm.
The fish do not often rise but generally feed constantly in the slipstreams on the flats and in the main channel. Bugs are small so the fish are eating literally all the time and really do not move around much.
Best Seasons for the San Juan River Fishing
Fishing is open all year round.  The limitation is usually the weather in the winter.
Spring and Fall are very pleasant with temperatures in the 70s and 80s.  Summer can easily reach into the hundreds while Winter is capable of bringing snow, freezing weather, and iced rods.
Fishing after November 15th or before February 15th is not recommended. You can check the current weather here. And an up-to-date fishing report can be found here.